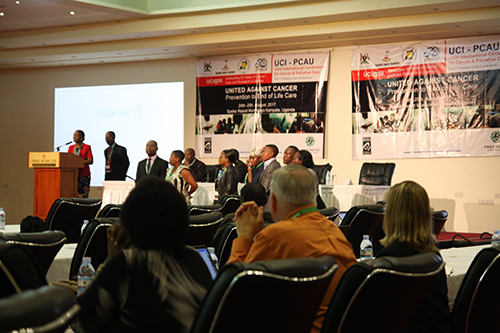 One of PCAU's strategic objectives is to support advocacy and awareness of palliative care issues throughout the country. This includes engaging with all stakeholders to enable a supportive environment for providers and the services they offer. To help meet this objective, PCAU hosts a biennial conference on palliative care. Center for Hospice Care has co-sponsored this conference since 2013. This year, for the third time, the conference will also be co-hosted by the Uganda Cancer Institute (UCI).
There has been significant growth since the inaugural conference in 2003 which brought together Uganda-based hospice and palliative care practitioners to share experiences and learn from each other. It now involves policy makers, eminent researchers, practitioners from other medical disciplines, patients and other regional and international stakeholders.

The conference collaboration with UCI, Uganda's premier cancer treatment, research and teaching center, began in 2017. This joint effort was seen as a good step toward accelerating the integration of palliative care into the national healthcare system.
It also offers an enhanced conference with an expanded scope, enriching experiences and unique opportunities to discuss research, and improve delivery of palliative and cancer care. The past two joint conferences drew several hundred attendees from multiple countries.
Each time the conference occurs, the theme is developed by the scientific committee, which is comprised of professionals in the cancer and palliative care fields. The committee also determines the tracks for which authors can submit their abstracts. After abstracts are submitted, the scientific committee reviews them to determine which are appropriate to be shared as an oral presentation, poster presentation or held as a workshop.
This year's theme is "Cancer and Palliative Care in COVID-19 and Other Challenging Situations," which reflects the current pandemic challenge and its impact on palliative and cancer care. The conference was initially planned to be hybrid – with some virtual and some in-person sessions. But given the recent wave of COVID-19 in the country and restrictions currently in place, the conference will now be entirely virtual. There are four conference tracks:
Innovation and creativity
Providing care to vulnerable populations
Sustainability of cancer and palliative care services
Resilience and caring for the caregivers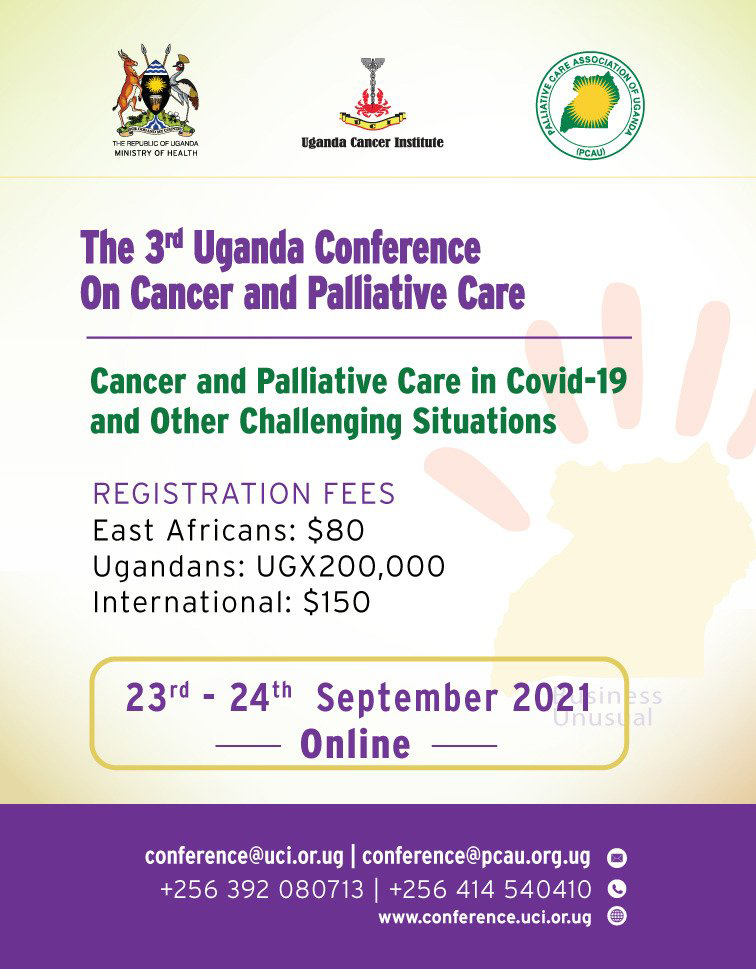 There are several rich plenary sessions with keynote speakers and panels covering a broad range of topics. The Director General of World Health Organization (WHO) has been invited to give the welcoming address, and Uganda's Prime Minister and Minister of Health will make remarks as well as provide updates on the government's efforts to advance cancer and palliative care in the country.
Four Center for Hospice Care employees will be among the presenters at this conference. Normally, CHC would be in Uganda for the conference as part of our partnership exchange visit, but given the pandemic, that is not possible this year. Anyone with an interest in cancer or palliative care is welcome to join! You can take advantage of the opportunity to join this virtual experience and register to attend.
Learn more at: https://conference.uci.or.ug/