The Center for Hospice Care/Hospice Foundation (CHC/HF) and Palliative Care Association of Uganda (PCAU) partnership focuses on enhancing access to hospice and palliative care in Uganda, with special attention toward training health care workers. PCAU has a mandate to work with the Ministry of Health (MoH) to strengthen health services provision – and having palliative care trained health workers is crucial for that to succeed. The advanced diploma in palliative care nursing (ADPCN), launched in 2019, is helping make important strides toward this goal.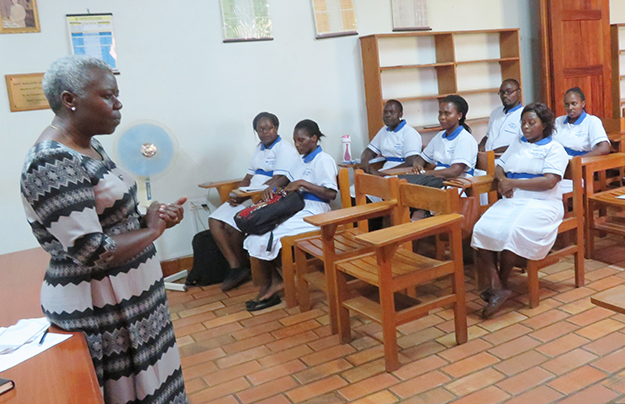 Former PCAU country director Rose Kiwanuka instructs the nurses of the inaugural ADPCN class.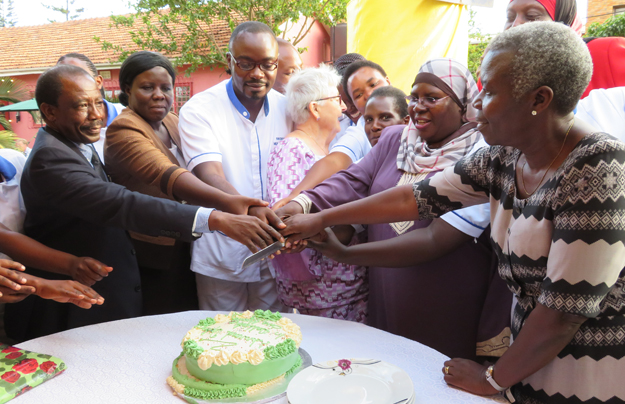 A cake cutting ceremony to recognize the inaugural class of ADPCN students.
Uganda has a tremendous need for hospice and palliative care services. It's a country the size of Oregon, with a population that is ten times greater. The median age is 17 while life expectancy is 63 years. The country has an estimated doctor-to-patient ratio of 1:25,000 and the nurse-to-patient ratio of 1:11,000. As of 2018, it was estimated that there were fewer than 200 clinical palliative care practitioners available to provide care to an estimated 255,000 patients in need. According to the 2017 Lancet Commission report, Alleviating the access abyss in palliative care and pain relief – [is] an imperative of universal health coverage, yet only 11% of those who are in need of pain control and palliative care in Uganda can access it. The country's Health Sector Development Plan 2015/16 – 2019/20 showed that palliative care services are offered in only 4.8% of the public hospitals in the country. The partnership knew that supporting the education of student nurses would be crucial to building the palliative care expertise in the country. So early in the partnership, CHC/HF and PCAU included a capacity-building initiative of education, training, and mentorship for health and non-health palliative care workers.
"I chose to undertake this diploma because of the experience I have of seeing a patient with advanced cancer of the breast crying on ward day and night with a lot of pain. Maybe there was poor management of pain. This inspired me to undertake this to get more skill of managing pain of such patients."
Eunice Kiconco,
Nurse in the inaugural class of ADPCN students
In 2010, CHC/HF began sponsoring nursing students to undertake a one-year clinical palliative care course offered by the Institute of Hospice and Palliative Care in Africa (IHPCA), a private institution recognized by the Ugandan government. While the training program was excellent, they graduated about 15 students per year – not nearly enough to meet the estimated need for palliative care services in the country. PCAU continued to lobby the government to integrate a similar course into its public nursing schools with the aim of increasing the number students and thus, increasing access to palliative care.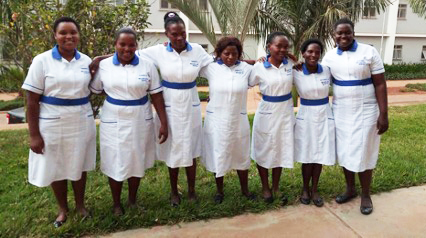 The 2020-2021 cohort of nurses being trained in the ADPCN program.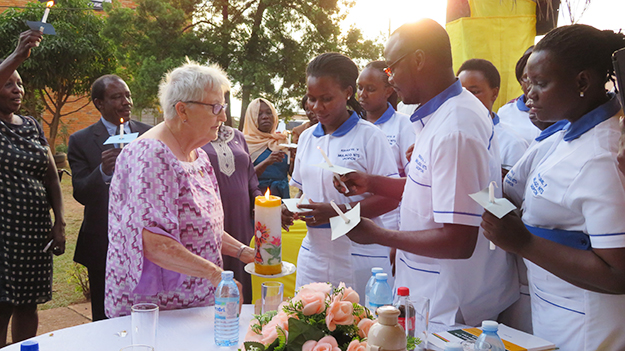 Dr. Anne Merriman meets with the inaugural ADPCN students.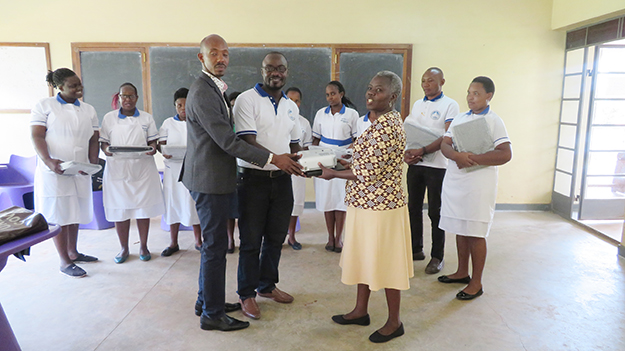 The inaugural ADPCN students were presented with laptops donated by CHC/HF.
From 2010 – 2018, CHC supported 62 nurse students through the clinical palliative care course offered at IHPCA. In 2019, due to the tireless efforts of PCAU, the government started an ADPCN at its largest nursing school, Mulago School of Nursing and Midwifery (MSNM). The program has the capacity for approximately 60 students per year. As a large government institution, the course could also be offered at a lower cost for students. CHC/HF supported 25 students in the inaugural class in 2019.
Due to the COVID-19 pandemic and the closure of all institutes of higher learning for a good part of the year, no students started the course in 2020. In March of this year, a small group of students started the course, and another intake is scheduled for later this year. The ADPCN program continued to support the students over the past year – sometimes with informal lectures and learning and sometimes with training and support in their places of work while school was out of session. While pandemic disruptions continue, the inaugural cohort is set to graduate in October 2021. Despite the bumpy launch of the program due to COVID-19, this is an enormous accomplishment for PCAU and for the country as they seek to build palliative care service provision to truly reach all in need in Uganda.
In March 2021, the MoH announced a new directive that all public hospitals must allocate space for a palliative care unit in their hospital. This is another result of advocacy by PCAU and other palliative care stakeholders in Uganda who were able to convince the MoH that Universal Health Coverage cannot be attained unless palliative care is embraced along with preventive, promotive, curative, and rehabilitative services.
PCAU's capacity-building efforts are more important than ever in light of this new directive. Trained staff will be needed at each of the new palliative care units. PCAU and the MoH are close partners in these efforts. CHC/HF is proud to support this incredibly important work! Hospice Foundation Vice President and Chief Operating Officer Mike Wargo appreciates seeing the partnership with the MoH develop: "This is a nice recognition of all the hard work we've (PCAU and CHC/HF) put in all these years. It's great to see that our resources are not going to waste. This structure ensures sustainability for training in the future."