In 2013, the partnership between Center for Hospice Care/Hospice Foundation and Palliative Care Association of Uganda was awarded the Global Partnership Award by FHSSA (now known as Global Partners in Care). The following article appeared in the
Summer 2013 Crossroads
magazine published by Hospice Foundation.
Center for Hospice Care and PCAU Receive the Third Annual FHSAA Global Partnership Award
Great partnerships can achieve results that individual efforts alone can't match. The five-year partnership between Centerfor Hospice Care and the Palliative Care Association of Uganda was recently lauded for their achievements with the awarding of the third annual FHSSA Global Partnership Award. FHSSA, formerly the Foundation for Hospices in Sub-Saharan Africa, builds partnerships to enhance compassionate care in Africa. The award was presented at the National Hospice and Palliative Care Organization's (NHPCO) Management and Leadership Conference, held in April in Maryland.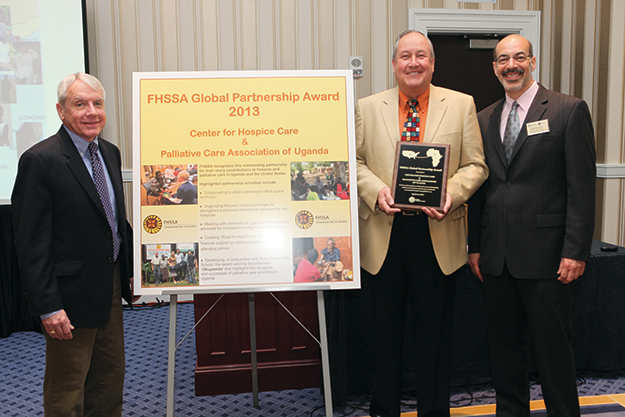 The Global Partnership Award recognizes the outstanding efforts of a partner that went above and beyond the expectations of a partnership. The award winner is selected based on creativity in fundraising, partner collaboration, staff contribution and commitment, and community outreach and involvement. The award comes with a $500 donation to the African hospice partner.
"Center for Hospice Care/Hospice Foundation has shown what a tremendous impact one partnership can have. The creativity and commitment they have made to the Palliative Care Association of Uganda will have a lasting effect on the patients and families needing palliative care and also to the dedicated health care workers who work tirelessly with limitedresources to provide that care," said John Mastrojohn, executive director of FHSSA.
Center for Hospice Care/Hospice Foundation raised over $25,000 in 2012 to support the work of PCAU to bring palliative care to all in Uganda. The review committee was impressed with CHC/HF's award application on many levels ranging from our unique and creative fundraising efforts, to our involvement in advocacy efforts on the national level in Uganda, to our dedication to finding a new home for PCAU headquarters, to our support of scholarship funds.
"Our FHSSA partnership has been rewarding and meaningful for our staff, our board and our volunteers. It has been our privilege to be partnered with PCAU. But it's so much more than a partnership. For us, faraway places have come closer, the planet has become smaller, and our own hospice family has grown in the best ways possible," said Mark Murray, President/CEO of CHC/HF.
Mike Wargo, COO of Hospice Foundation noted, "It's been said that pain knows no boundaries. Through our partnership withPCAU and through making our film Okuyamba available as an education and fundraising tool, we have also found that compassion and caring know no boundaries."