Community Partnerships in Caring
University Collaborations and Internships
The partnership has facilitated undergraduate and graduate level internships and student experiences in Uganda for students from Notre Dame and Holy Cross College.
University of Notre Dame
Documentaries
The short documentary film Okuyamba was produced to increase awareness of the need for palliative care in low-resource settings such as Uganda. It wouldn't have been possible without the assistance of Department of Film, Television, and Theatre faculty member Ted Mandell and students from the department – Jacob Griswold and Michelle Carlisle Lee – who served as assistant director and boom/camera operators.
Department alumni were also vital to the filming of the foundation's second documentary, Road to Hope. Collin Erker and Marty Flavin, both graduates of the program, handled sound and lighting, served as additional camera operators and assistant editors.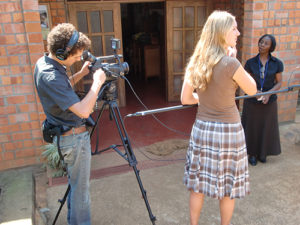 Jacob Griswold and Michelle Carlisle Lee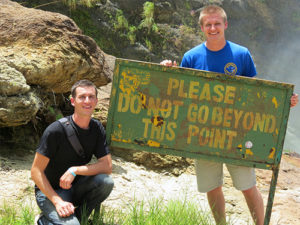 Marty Flavin and Collin Erker
mHealth Palliative Care Surveillance Project
Working with Master of Science in Global Health students, Lacey Ahern, faculty member with the Eck Institute for Global Health, and colleagues from the Office of Information Technology worked with PCAU to develop and launch an mHealth project in 2015 that uses mobile phones to track palliative care information throughout the country. The Eck Institute for Global Health has been integral in helping our partnership identify resources, both in the US and Uganda, that are able to further PCAU's strategic goals. Students who have advanced the mHealth project are: Bri Cawley, Katie Anderson, Yutong Liu, Lily Ramos Drale, Kaitlyn Syler and Ainur Kagarmonova.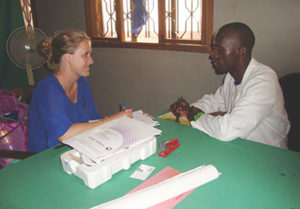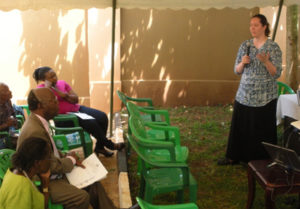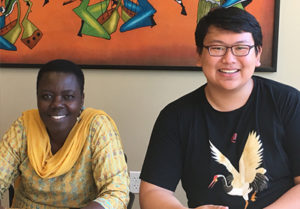 Improving the Morphine Supply Chain
"Business as Usual," a team of students enrolled in the Mendoza School of Business' Executive MBA program, made Uganda's morphine supply chain its case project in 2015. The project analyzed morphine distribution throughout the country, advanced strategies to improve the procurement and distribution process and determined how to increase awareness and advocacy for palliative care.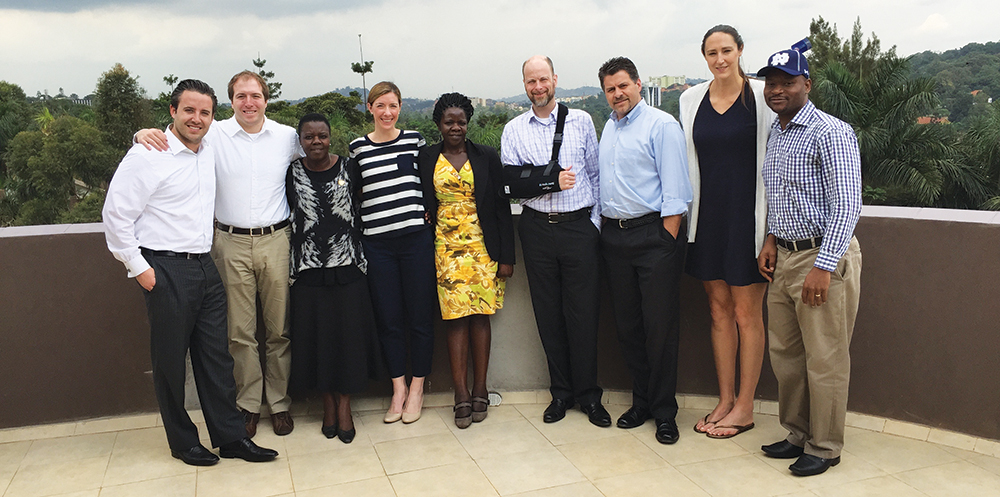 Volunteer Visits
Retired CHC Director of Support Services Roberta Spencer has been a volunteer liaison for the partnership since its inception. During her frequent visits to Uganda, she has helped facilitate the partnership's strategic initiatives and provided on-the-ground support for many of our ongoing projects. She has given workshops to partner palliative care organizations throughout the country, met with health officials regarding palliative care support, provided technical and logistical support to PCAU at its facility and helped administer grants for the Road to Hope fund. She played a crucial role in establishing the Road to Hope Camp and the Empowerment Retreat for older Road to Hope students and works with PCAU staff to put on the yearly camp/retreat.
Roberta shares her experiences in Uganda by blogging on the Hospice Foundation's website. We invite you to learn more about our activities through Roberta's eyes.