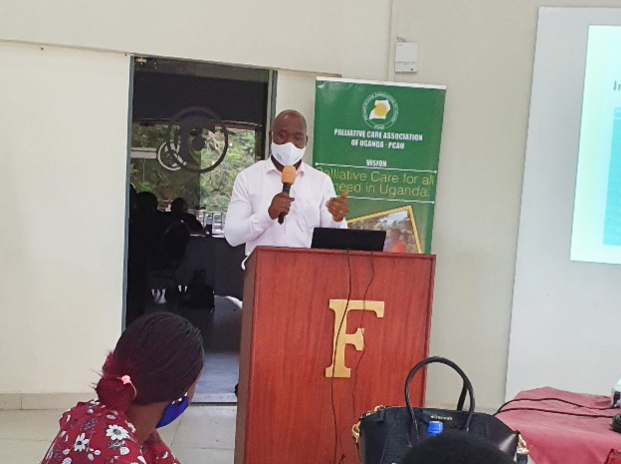 PCAU country director Mark Mwesiga welcomes attendees to the training session
In September 2020, PCAU held a training on infection prevention control (IPC) and mental health and psychosocial support (MHPSS) for palliative care workers across Uganda. Attendees included doctors, clinical officers, nurses and social workers. While the government increased their response to COVID-19 with support for health care workers, hospices and palliative care organizations were often left behind. PCAU, working together with the Ministry of Health (MOH), addressed this gap by developing a training specifically for hospice and palliative care organizations in Uganda.
With funding support from their US partner, Center for Hospice Care, they produced a guiding document specifically targeted at hospice and palliative care organizations, "Standard Operating Procedures (SOPs) for Teams at Hospices and Palliative Care Organizations During COVID-19 Pandemic."
The training workshop helped disseminate this information with the specific objective to equip these organizations with updated IPC knowledge and skills. Trainers discussed approaches for mental health and psychosocial support – another very important service, particularly  during the pandemic. Psychosocial support for patients with COVID-19 and their families was emphasized as well as the importance of care for the mental health and well-being of health workers.
The two-day training included participants from across Uganda and was jointly facilitated by PCAU and the MOH. New PCAU staff member Lisa Irumba represented PCAU along with Joyce Zalwango, capacity building officer. Each participating organization created a plan for training and implementation of quality improvement plans for their facility. A simple pre- and post-test on IPC and MHPSS topics showed a significant increase in knowledge among nearly all participants.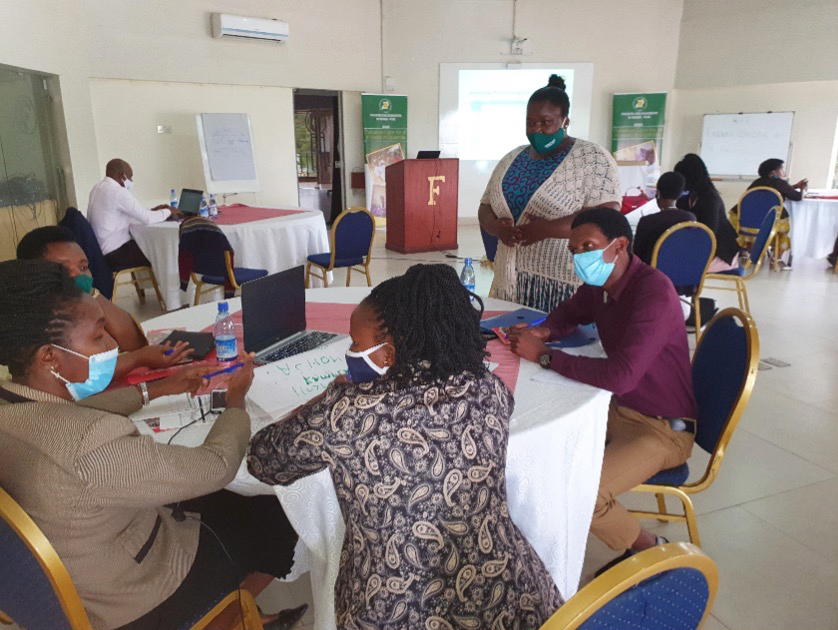 In his opening remarks at the training, the Commissioner-Department of Community Health, MOH, Mr. Upenytho George Dugum, acknowledged the important work of hospice and palliative care organizations and noted that palliative care workers have continued to visit patients in need during the pandemic. He highlighted the need for them to lead and "show others the way."